Pat Sturdy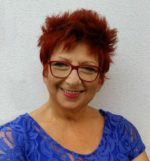 Property & Marketing Consultant
Pat commenced her Real Estate career in 2012 and joined the Elders team in 2017.
Pat is a Real Estate Agent who is driven, enterprising and professional. Pat's hard working and determined approach has seen her become firmly established as a credible agent in the Hervey Bay property market.

With 35 years experience in the new home building market in Melbourne, she is totally dedicated to achieving the best result for her clients which has seen Pat make a significant impact of success in her real estate career to date, regularly being acknowledged as the positive agent in the areas she operates in.
 
In Pat´s mind, trading Real Estate is so much more than just a sale. Pat prides herself in understanding both the seller and buyer needs and completes the rigorous work to complete the finer points of negotiation to the satisfaction of both parties. She looks at all elements and thinks creatively to ensure she delivers her clients well-thought out and intellectual advice.

With a focus on building strong, long-term relationships, Pat´s highly motivated and long-sighted mindset makes her a stand-out property agent for Hervey Bay sellers and buyers. With her progressive, customer involvement approach, her determination guarantees the best result for all involved in the most important financial transaction a person will encounter. 
Her commitment, enthusiasm and dedication to help clients achieve the best result possible beyond their expectations, sees her being sought after and recommended for her services to prospective customers.  With professional and personal value adds for her buyers, providing local knowledge and information of what the area has on offer, the entire sale process runs smoothly from start to finish and providing a transition with minimum fuss.  
07 4125 5244
07 4125 5177
0422 098 202